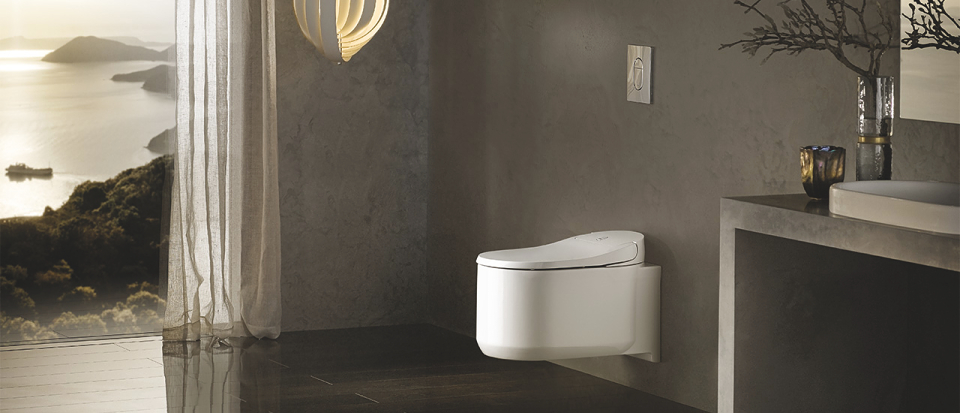 MODERN WALL HUNG TOILETS FROM GROHE
Did you know that the average person spends a year and a half of their life on the loo? This bathroom fixture, though it's often overlooked, is more important than you might think. For those redecorating their bathroom, that means there's quite a lot to consider when choosing a toilet.
When you think of toilets, you probably think of the usual floor standing models, but those tend to come with some design flaws. Think about how annoying they are to clean, or all the times you've had to reach around back only to find dust and cobwebs! GROHE's solution to this problem is the wall hung WC. It's modern, minimalistic, and saves space too. Plus, it's easy to clean underneath. GROHE's stunning range of ceramic wall hung toilets will help you step away from the norm and give your bathroom a modern touch.
ADVANTAGES OF WALL HUNG TOILETS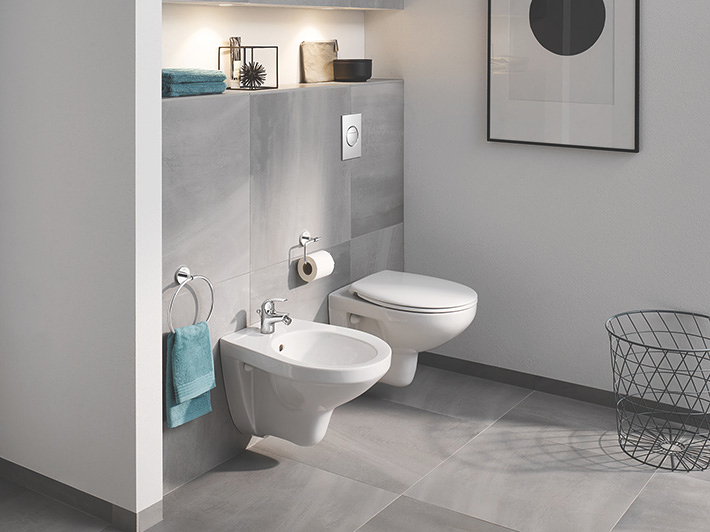 There are two main categories of toilets: wall hung toilets and floor standing toilets. Wall hung toilets are mounted on the wall, with the cistern concealed inside the wall and just the bowl protruding, whereas standard toilets are mounted to the floor. There are plenty of advantages to wall hung WCs:
Modern, minimalist design
Clean, sleek look
Extra floor space
Illusion of openness and space
Better accessibility for those with mobility issues (the height of a wall-mounted WC can be adjusted, which is especially useful for people who require the WC to be mounted higher off the floor for medical reasons).
Aesthetics and convenience aside, there are some important things to consider before choosing a wall hung WC. This decision should be made while you're still in the planning stages of your bathroom renovations so that the plumbing layout can be planned and laid accordingly.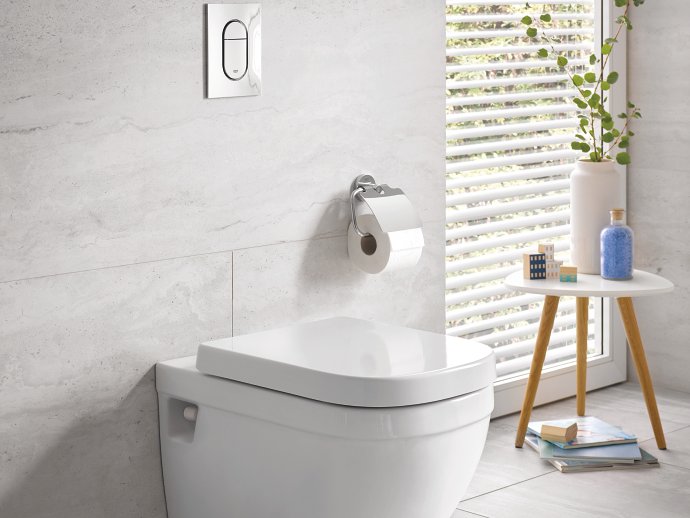 EXTRAS FOR ADDED COMFORT
GROHE ceramics are characterised by maximum hygiene, longevity and comfort thanks to the innovative technologies we use. You can count on GROHE products – our ceramic products are backed by GROHE's global expertise in sanitary fittings as well as over a century of technical prowess from LIXIL, who are the leading brand in surface technology.
For extra hygiene, consider one of our models that includes the PureGuard hygiene coating, which is an ultra-smooth, dirt-repelling surface that inhibits bacteria in corners and crevices thanks to special ions. If you don't want to purchase everything you need for your WC separately, opt for one of GROHE's toilet sets such as the EURO CERAMIC wall hung WC set, which comes complete with a toilet seat. This toilet seat model is soft close, so no loud slams or trapped fingers.
Many of GROHE's ceramic wall hung toilets come with Triple Vortex flushing technology, where three water inlets are used to create a vortex that cleans the entire bowl fully. This type of technology has also proven to be a lot quieter than traditional toilets.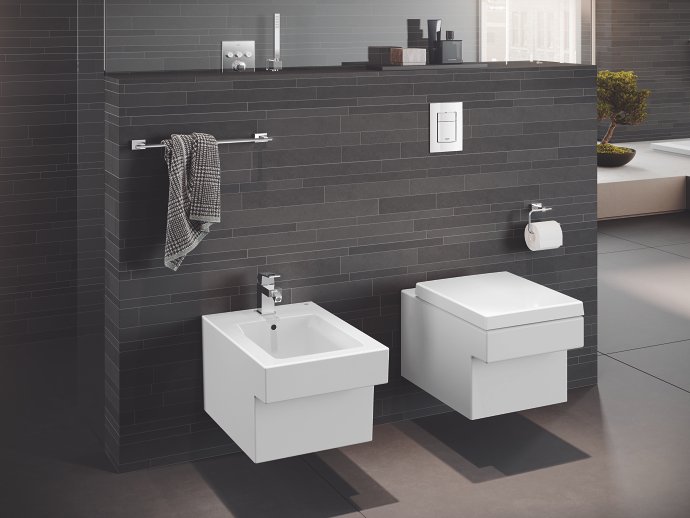 VARIOUS DESIGNS AND SIZES TO SUIT ANY BATHROOM
From curvy wall hung WCs like the contemporary EURO CERAMIC wall hung WC, to the very angular, futuristic-looking CUBE CERAMIC wall hung WC, there's a wall hung toilet style for every bathroom. If you're short on space, the EURO CERAMIC model also comes in a compact size measuring just 490 x 374mm, perfect for cloakrooms. Or perhaps the BAU CERAMIC wall hung WC catches your eye instead with its sleek appearance?
With GROHE, you don't have to worry about whether one product matches another when it comes to the style. Just look out for products with the same name and rest assured that they'll match. Buy a BAU CERAMIC toilet and the BAU CERAMIC manual bidet seat 3-in-1 set and you're off to a great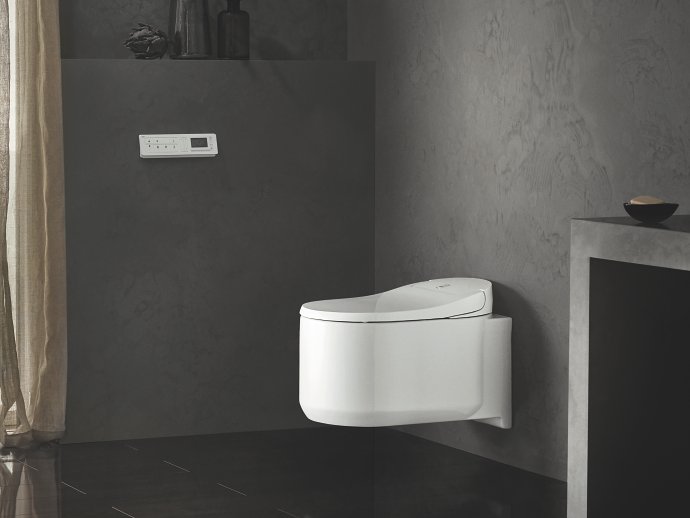 EXTRA LUXURY WITH THE SENSIA ARENA SHOWER TOILET
For that extra touch of luxury, check out the SENSIA ARENA model designer wall hung toilets, which revolutionises personal cleaning with its integrated self-cleaning technology. Put your feet up and let this powerful WC do the work. Combining the functions of a toilet and a bidet, this technologically advanced model is equipped with two separate self-cleaning spray heads which can be adjusting depending on which pressure, temperature, and position you prefer. There's even a warm air dryer function for afterwards. HyperClean and AquaCeramic finishes ensure that dirt, limescale, and bacteria are repelled, keeping the whole family safe.
With built-in infrared user detection, automatic seat opening, and odour extraction, what more could you possibly want from your wall hung toilet? You can either use the control panel on the side of the seat, the remote control, or even an app on your smartphone to control and program the product.
Once you've decided on which designer wall hung toilet to buy, check out GROHE's step-by-step guide for how to install a wall hung toilet.