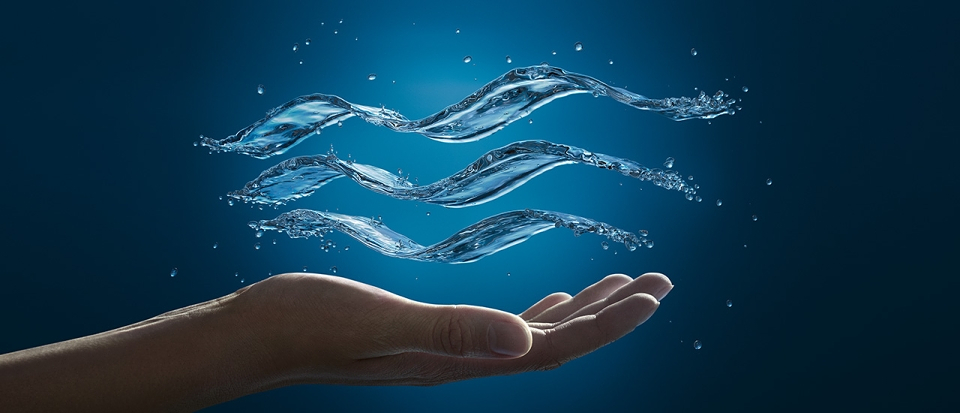 <strong>WATER. INTELLIGENCE. ENJOYMENT. </strong><br>ISH 2017: 14 to 18 March 2017 in Frankfurt (Main)!
The ISH is the world's leading trade fair for bathroom experience, building engineering, energy engineering, air-conditioning technology and renewable energy use. It is the global forum for innovations, trends and highlights in these sectors.
Taking place every two years in Frankfurt it is certainly the most important exhibition for GROHE.
Official opening hours:
14th – 18th March 2017
Tue - Fri 9 am – 6 pm (Trade visitors only)
Sat 9 am – 5 pm (open for public)
Location:
Frankfurt am Main / exhibition grounds
The GROHE booth will be located in The FORUM.
Visit us at the ISH in Frankfurt and discover our unique range of products and services.
BEFORE A DRIP BECOMES A FLOOD. DETECT TO TAKE CARE WITH GROHE SENSE.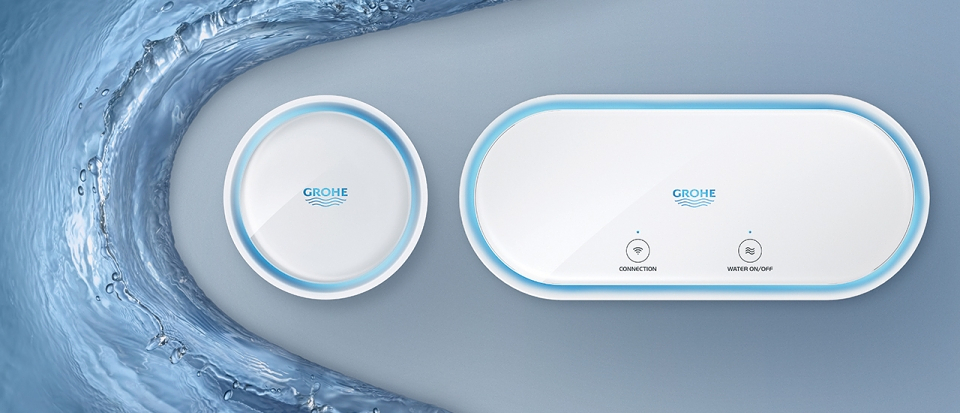 The GROHE Sense system monitors humidity, detects water leaks, instantly alerts you and shuts off water automatically.
Enjoy intelligent & complete water security for your home – 24 / 7.
<strong>SMARTCONTROL</strong> - The new Shower interface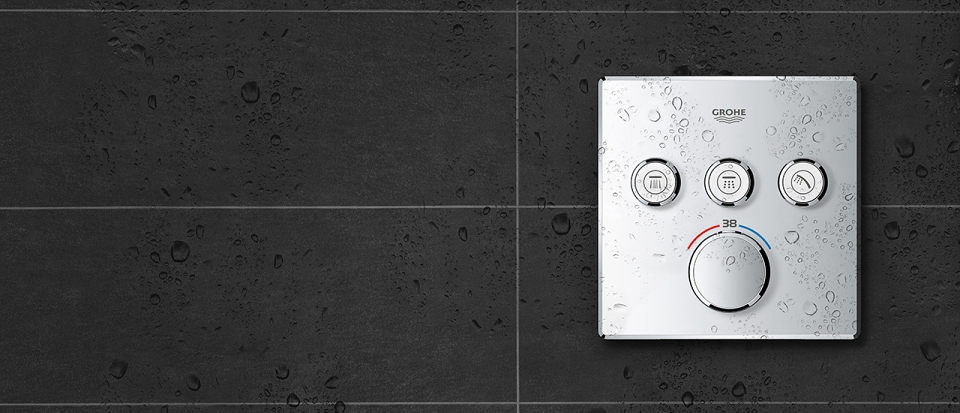 Think of a shower. Isn't it simply water droplets falling down? It's hardly rocket science. And yet what GROHE SmartControl does with water has to be felt to be believed. It elevates the simple shower to a whole new shower experience that seems to have been made for you alone.
Perfect Match<br><strong>Introducing GROHE Ceramics</strong>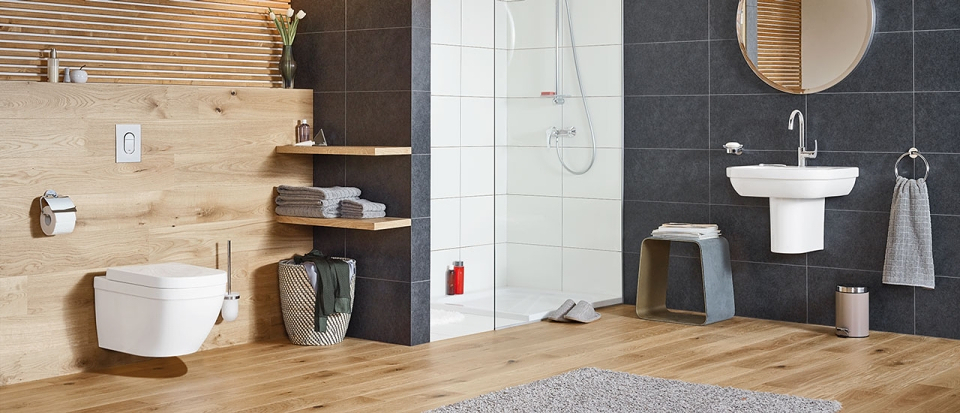 Finding a perfect match isn't easy. That's also true for the bathroom. Because our ceramics come with a selection of recommended combinations that fit our faucets, showers and sanitary systems they complement one other in both design and technology: the overwhelming variety of options are distilled into one simple choice. Save yourself the trial and error and make only one easy choice: for a perfect match.
<strong>LINARE</strong> - Sensual Minimalism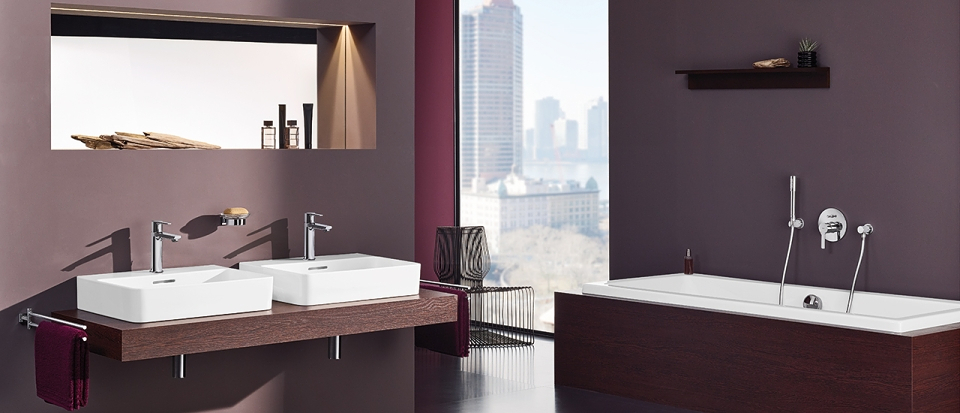 The cosmopolitan aesthetic of Lineare is minimal yet highly inviting. In keeping with the concept of minimalism, Lineare has been reduced to only the necessary elements to achieve the thinnest possible appearance. The line is based on a composition of two simple geometric structures - cylindrical bodies and thin rectangular forms of the handle and spout create beautiful harmonious compositions.
<strong>GROHE Red</strong> - the new Hot Spot in your kitchen.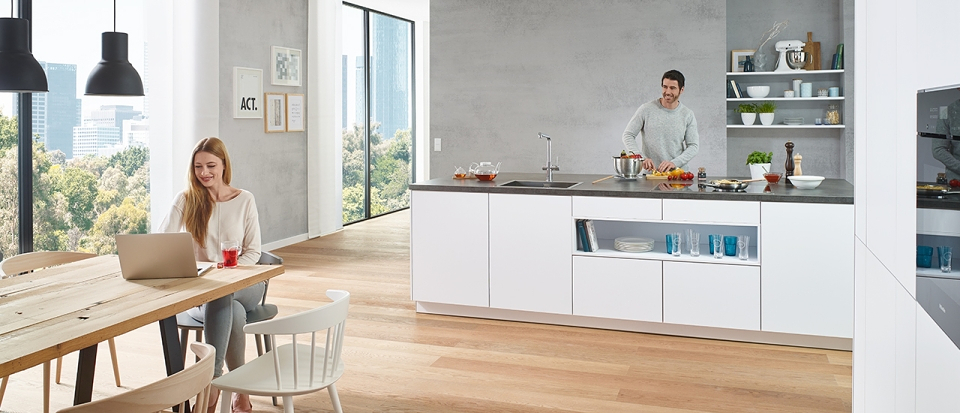 Never wait for the kettle to boil again. With the innovative GROHE Red system you can fill anything, from a mug to a large pot, with kettle-hot water in an instant – and all direct from your kitchen tap. With GROHE Red you still have your standard kitchen mixer, and a second lever provides kettle-hot water on tap.
AN EMOTIONAL SHOWER EXPERIENCE. <strong>GROHE RAINSHOWER 310 2-JET</strong>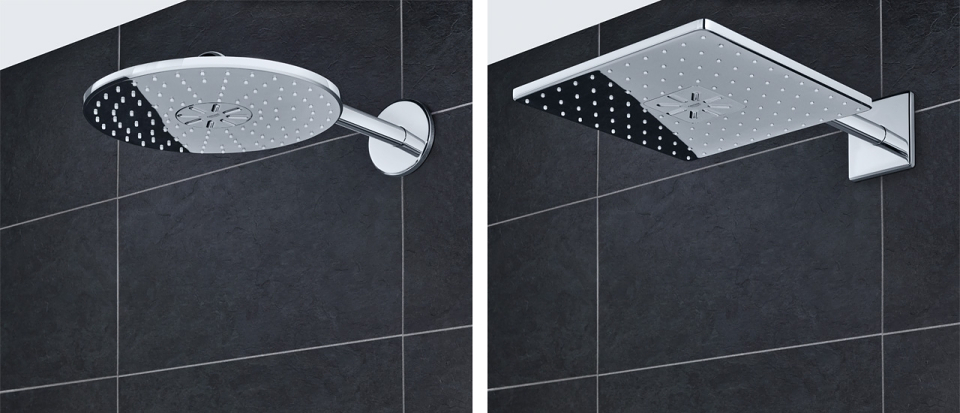 Showering is not just a cleansing ritual. With the new Rainshower 310 2-Jet head shower it now becomes an emotional experience. Choose from two individual sprays for relaxation or activation and you will feel a total body immersion under the XXL sized showerhead.
To make this experience even more exhilarating, we gave this Rainshower 310 2-Jet a premium design with a perfect balance of size and slimness.
<strong>TEMPESTA 210</strong> HEAD SHOWER & <br><strong>EUPHORIA 260 SMARTCONTROL</strong> HEAD SHOWER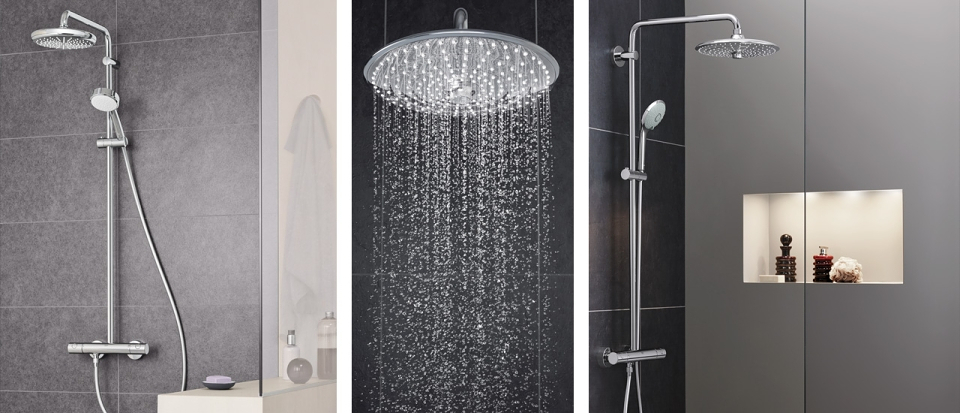 Enjoy a truly sprawling shower time. The 210 mm diameter of the Tempesta 210 head shower creates a wide covrage for a total shower experience.
Adapt your shower to your personal mood and need. The Euphoria 260 SmartControl has three zones you can choose from.
COSMOPOLITAN DESIGN, NOW EVEN SMALLER. <br><strong>GROHE FLUSH PLATES</strong>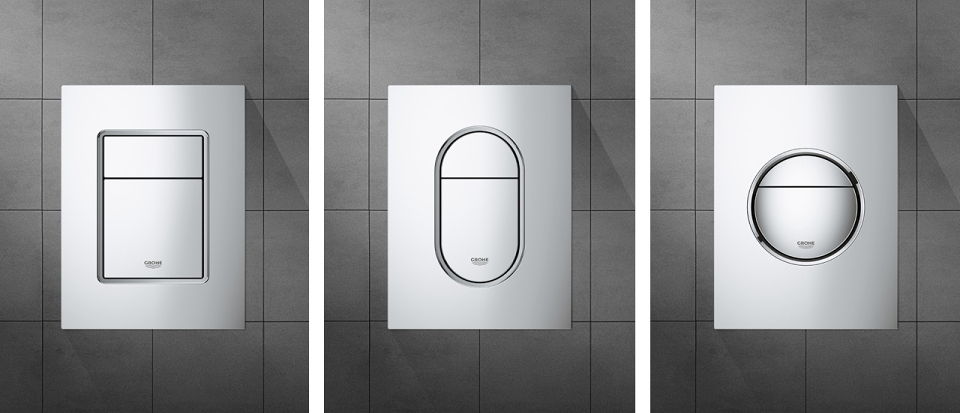 Square, Round or Lozenge – whatever your preferred form, GROHE Flush Plates allow you to create a cohesive design story throughout the bathroom. Now GROHE is taking the next step in reducing the size of the flush plates. Our cosmopolitan designs will also be available in a smaller, more attractive size. Available in GROHE StarLight chrome, our discreet plates complement our faucet collection and will be available in chrome, matt-chrome, alpine-white and supersteel surface.
PURE LUXURY: <strong>AQUASYMPHONY BY GROHE</strong>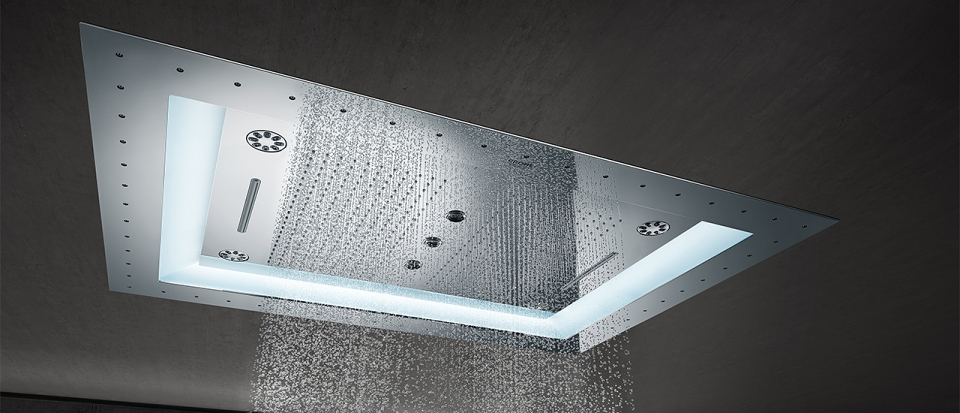 AquaSymphony is not a shower – it's a wellness zone, a place where water takes on a life of its own. AquaSymphony plays with water, creating ever-changing liquid harmonies. Just imagine the pleasure that awaits you.
Push, Turn, Shower : <strong> Rainshower SmartControl</strong>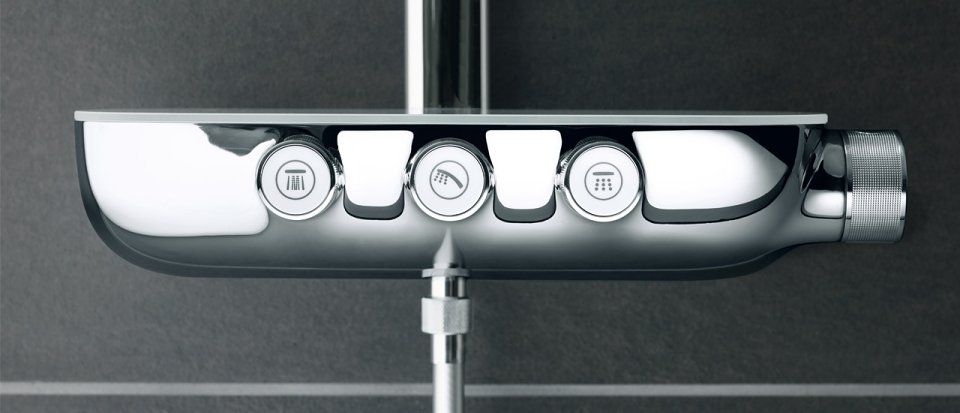 With the new GROHE Rainshower® SmartControl 360 shower system you'll enjoy a personalised and luxurious showering experience every day. The new innovative controls offer direct intuitive spray-pattern selection with a personalised volume setting and memory function. Simply push to start and stop then turn to adjust the water flow.
<strong>NEW ESSENCE</strong> - FREEDOM OF CHOICE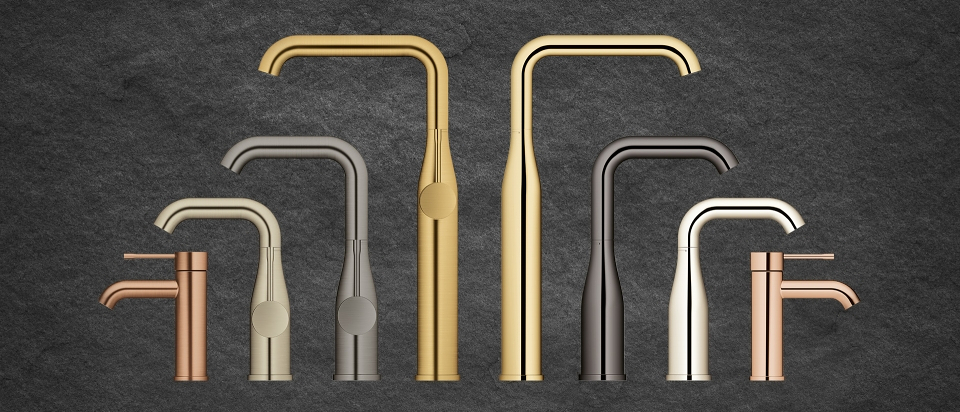 With its extensive range of sizes, colours and finishes, the new Essence series will make you feel completely spoilt for choice. The full range – from faucets to showers and accessories – offers you four different colours to choose from, either with an elegantly brushed or highly polished finish. Also available in SuperSteel and chrome. That's what we call freedom of choice. Enjoy.
<strong> Essence Kitchen</strong>- Delicate design, powerful features.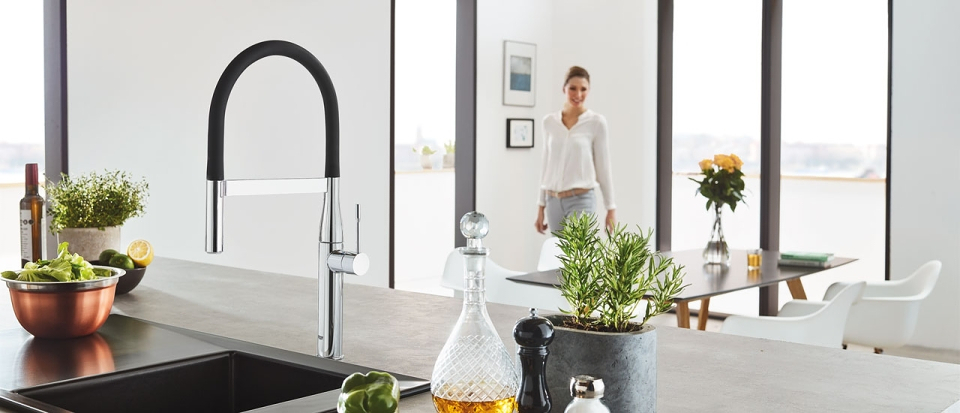 Discover a minimal style that's full of warmth with GROHE's new Essence tap. The slim architectural shape is enhanced with organic design elements ideal for a contemporary kitchen, inviting touch and interaction for the sensual chef.
THE <strong>GROHE SENSIA ARENA</strong> SHOWER TOILET
GROHE Sensia® Arena stands for Intelligent Care. Behind it are visionary ideas from GROHE, the most modern technology available and the unparalleled ability to combine it all. Enjoy innovative functions that are tailored to your personal needs.
WELCOME TO YOUR PRIVATE WATER SOURCE:<br><strong>GROHE BLUE</strong>
When was the last time you truly tasted water? When you took a sip that left you thirsting for more? That's what happens after your first encounter with GROHE Blue Home: a beautiful and intelligent system that transforms simple water into pure thirst-quenching pleasure, and your kitchen into a meeting place for thirsty friends.