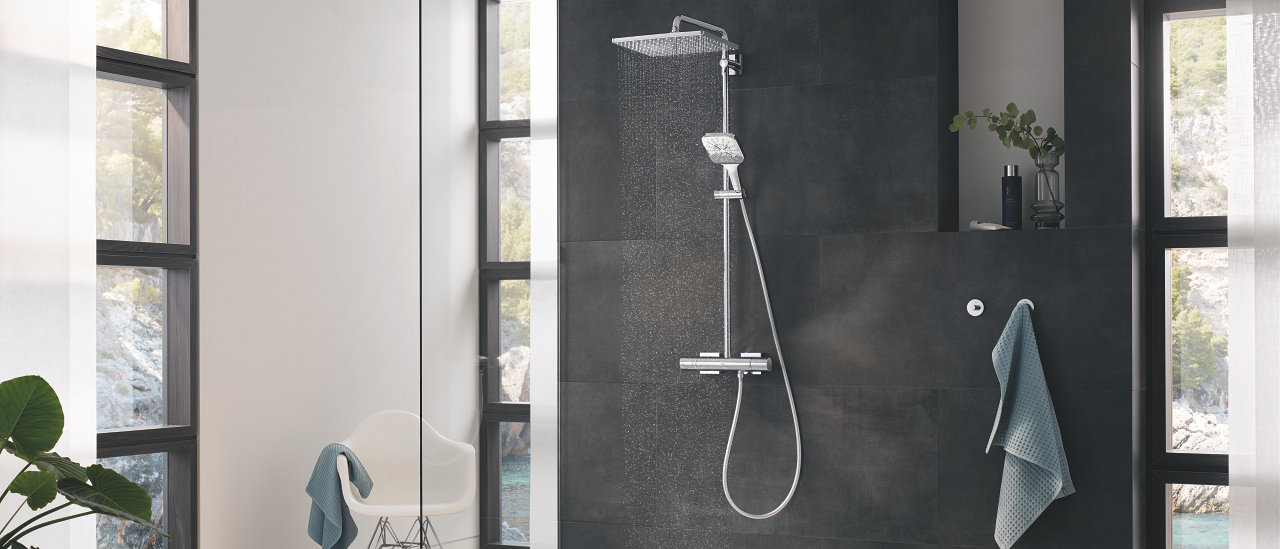 RAINSHOWER SHOWER SYSTEMS
BRINGING TOGETHER THE ESSENTIAL ELEMENTS OF A GREAT SHOWER.
Luxurious, tailor-made showering from a single product. With a GROHE Rainshower shower system, that's exactly what you get.
Rainshower systems bring together the essential elements of a great shower, plus a host of other benefits to enhance your comfort and pleasure. With a full metal Rainshower head shower – from 210 mm to 400 mm diameter as well as Rainshower Allure head showers – you will enjoy the luxurious wide GROHE PureRain Spray.
All of our Rainshower thermostatic systems feature a GROHE CoolTouch thermostat with a GROHE TurboStat cartridge – designed with the world's most sensitive thermometer in mind: your skin. The 450 mm shower arm swivels, while GROHE CoolTouch prevents scalding and protects the GROHE StarLigh chrome surface.
Go for the Best – the ultimate in luxury, style and function maximises enjoyment while ensuring comfort and safety.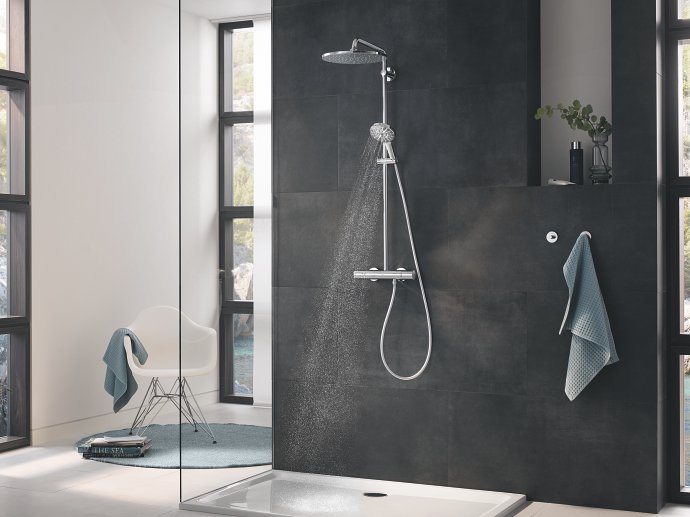 ROUND OR SQUARE? EXPERIENCING RAINSHOWER SmartActive SHOWER SYSTEMS
Rainshower 310 SmartActive Shower Systems come equipped with the slim, minimalist Rainshower 310 Mono shower head, offering the refreshing GROHE PureRain spray, and the Rainshower SmartActive hand shower with three indulgent spray patterns. The glider on the shower rail in the Rainshower 310 SmartActive Shower System includes the new ProGrip handle, making the shower glider easy to operate, even with wet hands.
And because we want you to enjoy your shower as quickly as possible, we came up with the GROHE QuickFix. This allows the position of the upper bracket to be altered during installation of the shower rail. The advantage: the upper bracket can be installed easily and quickly by utilising existing drilled holes.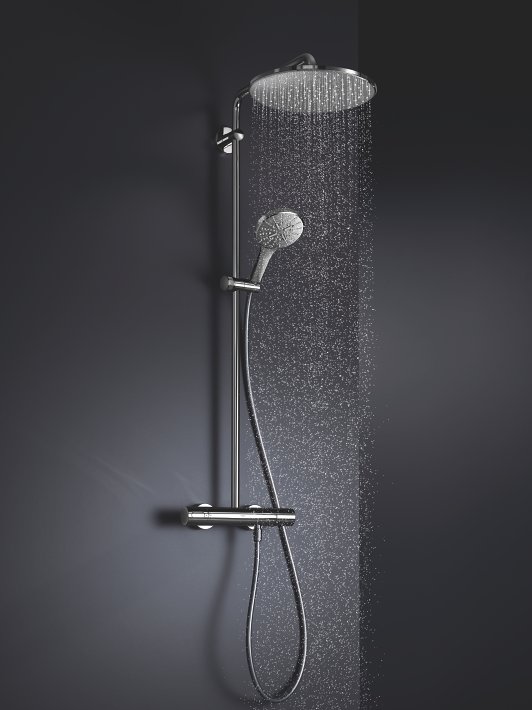 Rainshower SmartActive hand shower featuring Dripstop, SmartTip, and 3 versatile spray types
Rainshower 310 Mono head shower featuring slim design and 310mm diameter
GROHE QuickFix – Adjust upper bracket to existing holes for quick installation
GROHE CoolTouch – No risk on scalding on the body and unions
GROHE Turbostat – Constant, reliable temperature for safety and comfort
Experiencing Rainshower Systems
Precision engineered for great performance
A rain shower is the ultimate in showering luxury, with the showerheads giving you a relaxing shower experience like soft summer rain. Additional features mean that you get the most from this type of shower head: GROHE's DreamSpray feature ensures an even flow of water to every shower nozzle, and the reliable GROHE TurboStat technology means you won't suffer any unpleasant temperature changes mid-shower. Thanks to its quality German engineering, your GROHE Rainshower System is guaranteed to offer unrivalled precision performance for years to come.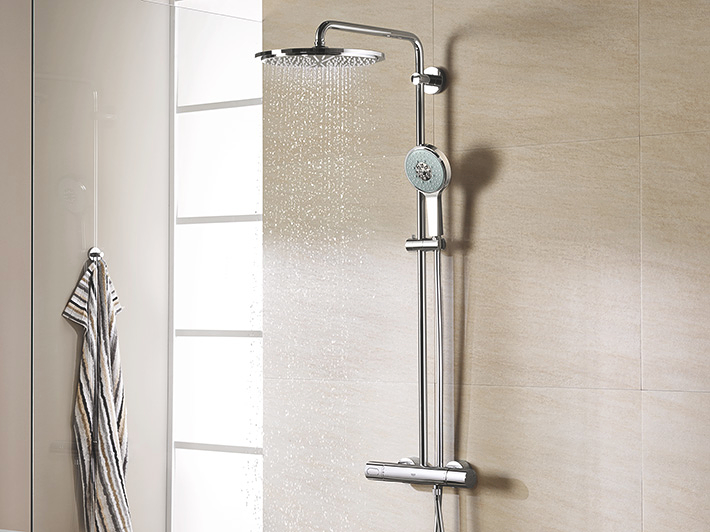 Child safe and eco-friendly
A safe option for all the family, a GROHE Rainshower System offers not only a SafeStop temperature limiter and an optional SafeStop Plus option, but also GROHE CoolTouch technology that ensures the outer surface never exceeds your preferred shower temperature, thanks to an innovative cooling channel between the hot water and the chrome surface. GROHE EcoJoy technology gives great eco-friendly credentials - this water-saving feature gives you the option of cutting water consumption by up to 50%, but without compromising on the great performance and power of you Rainshower System.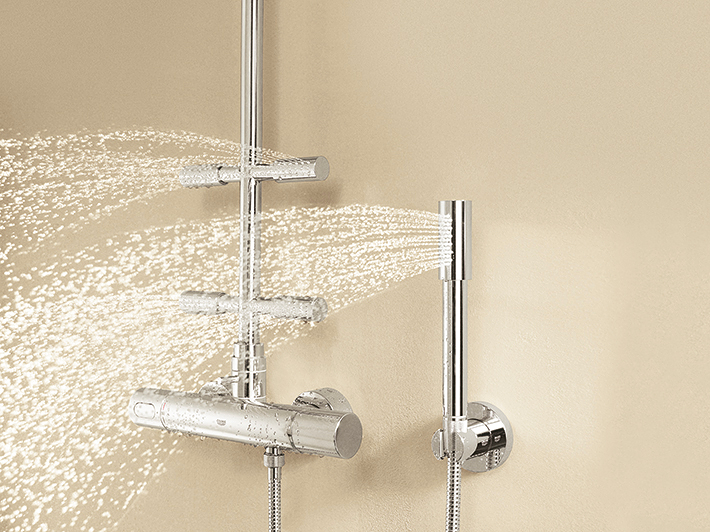 Every design option covered
Sleek, chic award-winning design that will enhance any modern bathroom - as well as their clean lines, GROHE Rainshower systems come in a choice of attractive yet durable finishes, both of which make cleaning easier. A GROHE Rainshower System also lets you create your own personal comfort zone, tailored to your needs. From generous, extra-large shower heads to slim but powerful hand showers and adjustable body jets, a Rainshower System makes creating your ideal shower effortless.